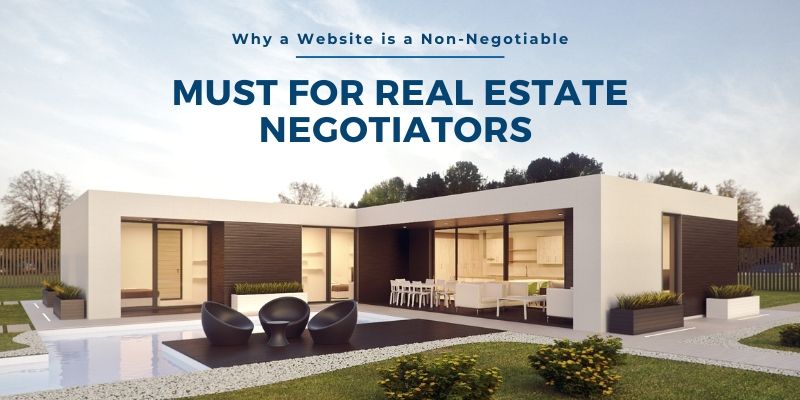 You took your Negotiator Certification Course (NCC). A REN tag is issued to you through the real estate firm you work for. You are now ready to, or have been representing property buyers, sellers, landlords, and tenants. 
Your employer, a Real Estate Agent, may already have their own website, you absolutely need to have your own as well. Here's why.
1. It's your digital business card
---
Individuals from all manner of industries benefit from having a website. Whether you're a graphic artist or a financial consultant, you can have an online presence that takes your potential customers one step closer to contacting you. The same applies for real estate negotiators. 
More importantly, your website can do the things your physical business card cannot. That is, to display further information about your profile and work, delivered in just seconds. 
2. You have control over your listings
---
Yes, you can add your listing on popular property aggregators/portals. But before you do, consider the difference from having your own site.
Listing on aggregators:
Any traffic generated to your listing will expose visitors to others. That means they are likely to click through to listings uploaded by other agents. When that happens, your listing may eventually get ignored.
You are given a limit on how many listings you can post in a given time, before you hit a paywall.
By listing here frequently, you are effectively helping these websites gain more popularity. And you're paying them for that to happen.
Listing on your own website
Visitors who arrive on your site will only see your listings. Which means less likelihood of being distracted by links to listings by another agent.
You can list as many of your properties as you want, with total freedom of how to display information.
You can have your own easy-to-share website link. Which means you can gain your own popularity as happy customers pass on your link to friends.
3. WhatsApp can be a hassle for photos
---
Yes, communicating with people through WhatsApp or Wechat is easy. But things get complicated when you're conveying information that is a little more complex than just conversations.
Sending photo galleries to people through WhatsApp isn't ideal. Because over time, these photos will get buried in their phones and become hard to find and referred to again. Furthermore, this issue gets worse if you send photos of multiple properties to the same person. Things can get disorganized.
Imagine all you need to do is send a single webpage link per property. The photos and information will be easily read and accessible at any time. This way, having a website will save you time and effort, allowing you to easily handle more potential clients. 
If potential clients find your website first, they can click on a button to send you a WhatsApp message directly. By this time, they will already have sufficient information at hand.
4. You can perform your own email blast
---
Having your own website allows you to collect email addresses from interested parties. This means having your very own database with relevant information such as price range and locational interest.
Then you can have a system in place where these potential clients can be automatically emailed. Whether to everyone in your list or just those with an interest in specific places or types of homes. This way, you can send alerts to people without having to message them through WhatsApp one by one.
5. You can place your professional profile
---
According to the Close, the third most viewed page on a real estate agent website is the "About Us" page. 
Which means that other than the property listing itself, people may want to know about you. And if all they have is your WhatsApp number, people may not be inclined to ask you directly about your experience. 
6. A website is friendly for millennials
---
According to this report, 58% of millennials and 46% of generation X found their home on a mobile device, compared to 33% of boomers.
As the new generation becomes tech-savvy, so should you. Young working adults today are getting close to buying their very first home, and having a website will make it that much easier for them to find you.
7. You can consolidate your presence on other channels
---
If you're using multiple platforms as a way to market yourself, then you end up having many links to carry. Facebook, Instagram, Mudah, Property Guru, Star Property, your employer, etc. If you have your own website, you can list it all there, and share only one link to anyone.
Conclusion
---
You don't need to run a company to benefit from having your own website. If you're a negotiator paying money to property aggregators anyway, why not channel some of it to building your own web presence? It's a worthy investment.
---
Get your own real estate negotiator website starting from RM1 a day.
Includes:
Pre-made template design
Web hosting & domain name
Premium add-ons:
Customized design
Email hosting
Applicable for:
Individual negotiators
Group of negotiators
Agency / firm
Group of companies
Why choose Orangesoft?
Orangesoft has developed 500+ websites with practical design in mind since 2007. We offer:
Let's talk
Your next website can be designed and built in 45 days.