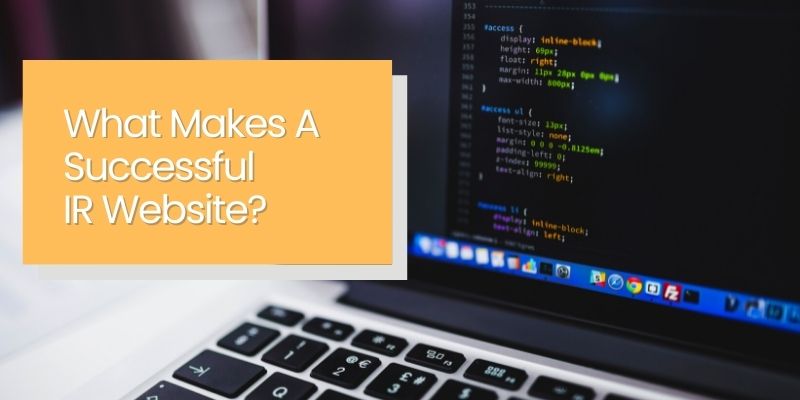 In this day and age, some businesses still have yet to realise that most customers will visit their website before anything else. Undeniably, the same goes for your potential investors. An easy-to-navigate investor relations website comes in handy to make a lasting impression. As a result, investors who seek funding opportunities or journalists who look for timely data can locate specific information without hassle. In addition, a visually appealing investor relations website has the capability to differentiate your company from competitors whilst retaining site visitors' attention. So, before we jump to the key components your website needs, let's dive deeper into the facts we will want to know first: What is an IR website?
The Role & Importance of Investor Relations (IR) Website
---
An investor relations website, or IR website, is one of the most credible storytelling vehicles for your company. It serves as a way to communicate all the fundamentals of your business within the investment and media community. This platform of "instant corporate information" showcases clear, accurate and up-to-date information that allows investors, analysts or journalists to be aware of what your company has to offer. 
With its effect on the perceived credibility of one's business, more and more companies are leveraging the power of IR websites to broaden their online reach. Apart from driving corporate storytelling, learn why you should jump on the bandwagon and launch a new investor relations website.
24/7 Accessibility & Extend Global Reach
The investor relations website acts as the first port of call for research among investors, analysts and journalists. It is a one-stop hub with round-the-clock access to the company's latest news and archived reports. In the present day, where almost everything is at our fingertips, your IR website brings the convenience everyone adores in the fast-paced world.
Enhance Credibility & Meet Investors' Expectations 
Companies are expected to give more details on their operations than ever before. With an informative yet easy-to-navigate investor relations website, you can inject a sense of professionalism and trustworthiness among audiences. In actual fact, by exhibiting the right info in the right section, you are on the right track if you wish to meet one's expectations.
Stand out among the Crowds & Competitors 
Set yourself apart from the rest with a comprehensive investor relations website highlighting your company's capabilities. As a vital source of information, an IR website gives investors a reason to invest their money in your company. In addition, your corporate transparency will bring you the journalists who put a spotlight on your company in the media ecosystem.  
Cultivate Meaningful Connection & Partnership
In a world where communication brings opportunities, an IR website bridges the gap between your company and your potential investors. Your up-to-date investor relations website communicates the latest of your company effectively to audiences. Consequently, you can establish continuing relationships with investors or analysts whilst promoting brand recall.
Top 5 Features & Best Practices of a Successful IR Website
---
A strong online presence is possible with an investor relations website with key components that work together throughout the web pages. Some critical elements are often neglected, and as a result, an effective IR website will definitely be out of the question. Fret not, as we will break it down for you how these content strategies help maximise the value of your investor relations website.
1. A Captivating Homepage with Easy-to-locate Menu & CTA
Ensure a positive user experience among visitors with a strong homepage once they step foot on your IR website. As one of the most visited pages on an investor relations website, we should leverage thoughtful navigation design on the homepage. Consequently, visitors are able to explore the IR website and locate key content without hassle. Also, we can make use of high-quality imagery to retain audiences' interest.
2. "Why Invest" At A Glance Makes Content Easy to Digest
We have come to the age where online users consume content of any kind in bite-sized form. It is best to give constructive reasons for why your company is worth the investment with an infographic approach or a bullet-pointed list. For instance, a "Why Invest" section should be straightforward yet efficient to persuade the target site visitors. Thus, showcasing information at a glance on your IR website is way more digestible than reading paragraphs of content.
3. Elaborate on the Company's ESG Initiatives & Efforts
Environmental, Social and Governance (ESG)-related information has increasingly become a principal focus among investors. Your company's ESG efforts affect the decision among investors on whether to invest. By integrating ESG content into your IR website, potential shareholders or investors will have a clear view of where your company stands when it comes to environmental and social issues.
4. Clear Contact Info & Touchpoints Asking for Subscriptions
Incorporating contact information at the footer of every web page on your IR website allows people to get in touch directly. It is an essential feature for instant communication, thus increasing the possibility for further discussion. Furthermore, a simple subscription CTA encourages those interested in signing up to the mailing list to stay updated. Aside from that, you can drive online engagement by placing social media icons that lead to official platforms.
5. Keep Audiences Informed with the Latest Report & Event
Stay ahead of your competitors by giving what people want instantaneously. Do not expect the site visitors to know what will happen next, and do not make them rummage your IR website for them. Instead, make it as easy and interactive as possible for investors, analysts or journalists to access your company's latest report, press release and events calendar. A few clicks on the user's end leave a good impression about your user-friendly IR website.
What do Investor, Analyst & Journalist Want from IR Websites
---
So, what do visitors want from an investor relations website? Well, that depends on individual audiences with distinct purposes. Firstly, we need to understand who they are and how they utilize your information. In this case, the most frequent visitors of an IR website can be categorized into three groups as follows. 
1. Investors 
When it comes to researching one's company, investors are most likely to access your IR website via the search engine or main URL. Here are what individual investors may wish to find out about your company:
Company's organisational structure 
Shares performance 
Annual report to download 
Online annual review 
Invest options 
Contact information 
Event dates & details 
Sustainability efforts 
Important news & info 
However, investors often find themselves having difficulties finding particular content. Additionally, they might feel overwhelmed with the complicated content arrangement jam packed with data. In order to serve your potential investors better, here are some of the best practices to pick up when building an investor relations website. 
Avoid writing the content with too much jargon. 
A downloadable PDF version of the company's annual report.
Showcase key information in clear and organised sections. 

2. Analysts 
Most analysts are reasonably web-savvy. They value in-depth yet organised data that is accessible all in one place. In addition, those who keep a close eye on your company wish to read more about: 
The most recent financial results 
Archived reports 
Press release archive 
Sign up button for the mailing list 
Since what they do best requires an abundance of time, though they know their way around an IR website, they probably do not want to knuckle down finding certain information. Therefore, in order to make sure your investor relations website helps them quickly, you should look into these key elements when developing an IR website. 
Clear navigation throughout the web pages 
A deep archive that tracks & traces 5 years back
A full set of results materials in different formats
Mobile-friendliness analysts who are on-the-move
3. Journalists
Your investor relations website offers journalists the information they need to cover a particular printed or online news. So, here are some of the most vital info on your IR website for journalists:
Press releases 
Company's history & overview 
Previous & current stock information 
Financial overview & reports
List of interested analysts 
Bios of executives
Latest speech & quotes from executives
Pictures of executives
Since journalists work under tight deadlines, it is best to keep your IR website as uncomplicated as you can. Learn about how to bring convenience to potential journalists who will write about your company. 
Provide digestible information 
A designated section for news or podcasts 
Contact information & social media platforms
Go Above & Beyond with An Investor Relations Website
You can have peace of mind knowing that the above must-have elements of an investor relations website can help improve the investor experience. Give your potential investors, interested analysts and attentive journalists what they want, all from one IR website. There is no better time than now to bring your company to life and leave a mark amid the investment community. Leave your compelling corporate narrative to our IR website design and development experts, so you will get seen and heard by the crowd you deserve 24/7.
Why choose Orangesoft?
Orangesoft has developed 500+ websites with practical design in mind since 2007. We offer:
Let's talk
Your next website can be designed and built in 45 days.