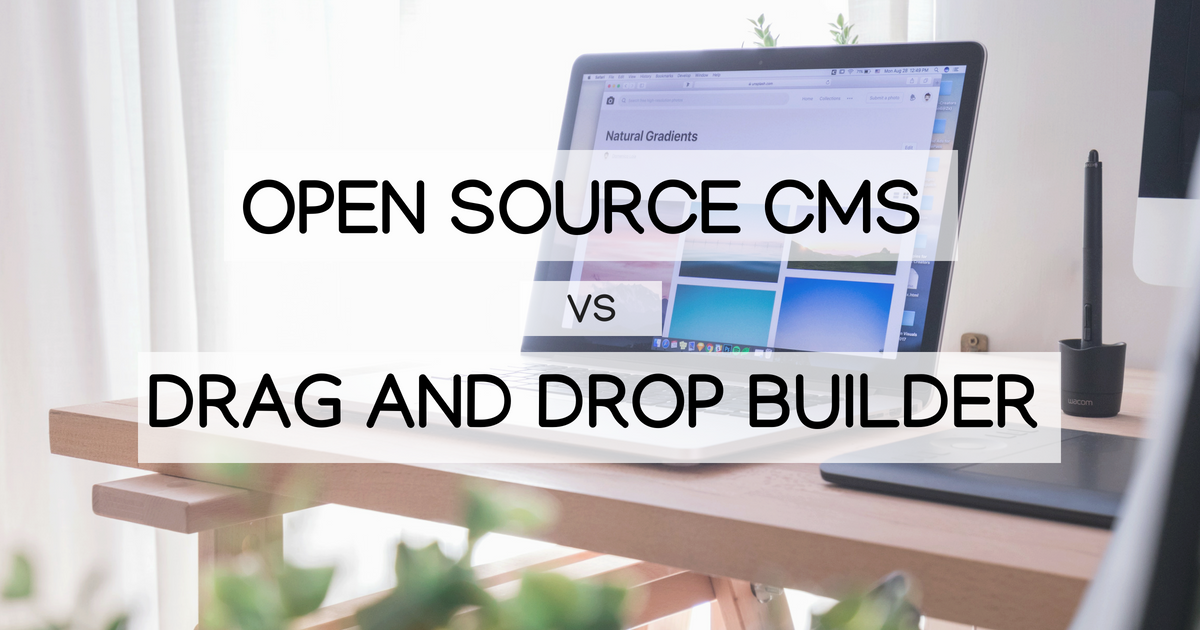 Deciding on how you want to build your website can be daunting. It all depends on how you want your website to work and operate. On one hand, we have the open source CMS and on the other we have the drag and drop builder.

Open source CMS (content management system) is widely used by medium to big enterprise and is more popular among companies who are looking to invest in their website. Some examples would be, Wordpress, Joomla, & Drupal.

Drag and drop builders are more commonly used by entrepreneurs, bloggers, and even famous personalities. Well known examples are Wix, Weebly, & Squarespace.
Open-source CMS
Many open-source CMS out there are pretty basic. They're made to encourage programmers to freely build upon it. It's quite flexible for programmers to customise various features with plugins or just build the required functions from scratch.

Many programmers out there dedicate their time to building updates or features for an open-source CMS. For example, WordPress has an entire community just creating new features for the software all the time. They are also actual companies dedicated to build new templates and plugins for WordPress.

With updates round the clock and almost unlimited amount of features, using an open-source CMS can guarantee you satisfying & unique website. Filled with cool functions and useful features for your audience. The catch is that you'll need to hire a professional to build the website for you. As open-source CMS requires good technical skill and knowledge to fully utilise it.
Drag and drop builder
As the name suggests, you build a website by dragging certain features you want and dropping it on your pre-made website. No coding experience or knowledge is needed when using this kind of software.

Drag and drop builders come with a variety of pre-made templates that form your website. This means that the customise feature is limited to the options it provides.This can also mean that some templates may not be as responsive on other platforms. For example, how your website looks on mobile.

Editing using a drag and drop builder is simple. The process is very straightforward and there is no fuss about changing up a portion or even updating your website.
The bottom line
Choosing between the two is really up to your objective and what you want your website to be and achieve. For websites with complex functions and a unique design, it's always best to go for an open-source CMS. If you're looking to build a very simple website with limited function and simple design, then drag and drop builders can be your choice.

Still can't figure out what is best for you? Send us a question and we'll guide you through! We can help you with both options.