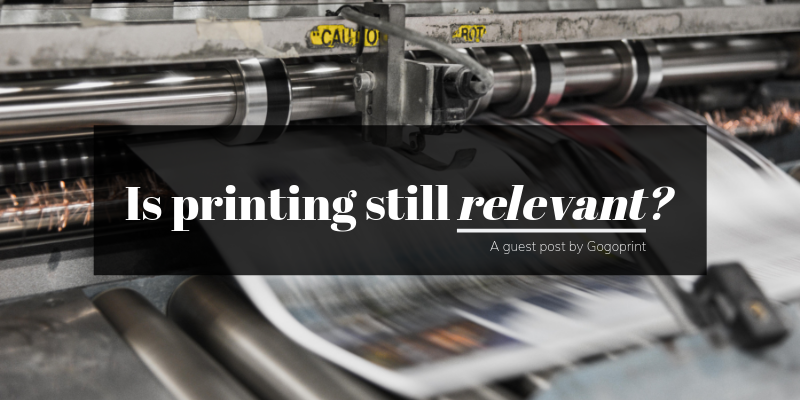 Some of you might still wonder why printing business nowadays still one the high potential business, and why even printing still relevant in this digital era. Printing is one of the tools that we usually used for marketing purposes. We know that nowadays, every marketing activity is usually done online. Most of the business now put most of their marketing budget online. However, based on Forbes, the print will continue to be valuable where there is a physical customer presence. It will create the image of your business more tangible, credible, and more engaging. Besides, not every person are going online every day. It's good to have high online exposure, but we would still need to prioritise the printed ones. 
For instance, a business card is one of the most essential tools for every businessman. It will represent the credibility of the business, and make it easier to notice. Imagine if you don't use business cards and just ask people you meet to search for your business online. It will look as unprofessional and people will easily forget about you. But if you prepare a good business card, it will gain more trust in your business. 
Catalogs, booklets, or flyers might sound old school, yet it's actually still important for every business. People tend to be easier to remember the information that they read directly compare with online. Other printed materials like greeting cards or gift cards are also important to maintain your customer. They will feel special if they receive something tangibly more than if they receive it online. It will make them remember your brand and tempted to buy your product or service in the future. 
A couple of years ago, especially in South East Asia, printing wasn't so easy for small or medium-sized companies, since their orders wouldn't be big enough. Most of the printing business will only accept a big amount of orders since the cost of printing production is high. On the other hand, startup businesses in South East Asia are rapidly growing. There are many startups that start with only a bunch of people, that's why they haven't required many printing needs. As a new business, printing will be one of the essential tools for them to promote their business. For instance, business cards to introduce their business to partners, or catalog and booklets to describe the products or services they provide. 
Previously, besides the high price, printing activities also spent a lot of time and effort to be completed. It was also lack of transparency, the customers wouldn't be able to request the exact date that they wanted it to be over. 
From that, Gogoprint created the solution both for printing SMEs and also customers. On our website, customers can order their printing materials in a small amount. On the other side, we also help to print SMEs to get more orders with our e-commerce concept that can get more customers and aggregating the orders from customers at once. It will help to reduce the production cost. This kind of concept might not be really new in the United States or Europe but it's not really common in SouthEast Asia. That is why Gogoprint has successfully get customers and suppliers' attention in Thailand. 
After Thailand, Gogoprint saw another potential to expand to other countries. They started in Malaysia and Singapore in 2017. They made the hit as the reliable printing company until now. The main vision of the company is to go regionally, that's why after that they confidently continue the expansion to Indonesia and Australia. As one of the largest economy countries in the Asia Pacific, Indonesia, and Australia has been a high-potential target market for startup businesses. 
If you want to know how Gogoprint helps you with the printing needs, you can go directly to Gogoprint's website. You can choose any products available on the website, choose the configuration based on your needs and preferences. If you can't find anything that you need on the website, you can call the customer service and there will always be a key account that ready to serve your inquiry. 
This is a guest posting by Gogoprint. Learn more about them here: https://www.youtube.com/watch?v=T1qCP13J4Gg
Photo by Bank Phrom on Unsplash.