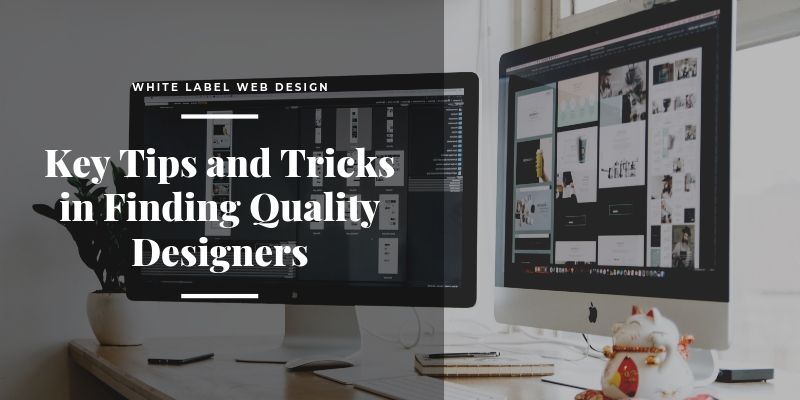 Is your website bounce rate at an all-time high? If you're unsure why you're losing visitors, it's time to take a second look at the design.
A well-designed and developed website puts user experience at the forefront. 
According to this research, 39% of website visitors will stop engaging with a website if it takes too long to load. 38% will call it quits if the layout is unattractive, too. 
With white label web design, you can impress your visitors, get them engaged, and ultimately turn those visitors into sales. It takes a quality, talented web designer to get you there first. 
Here are eight qualities to look for in a web designer. By searching for someone with these qualities, you can give your website the boost it needs to succeed and increase sales. Start your search by prioritizing these key qualities today. 
1. They Know Their Stuff
---
When searching for a web designer, ask about their knowledge and firsthand experience. What's their strategy when they create a new website? Do they have the resources and techniques necessary to get the job done?
If they have a difficult time explaining their process, they might not be the right choice. 
You need someone who knows what they're doing. White label web design trends change all the time. A designer should stay up-to-date with these trends and reflect that knowledge in their work.
Otherwise, your website will fall behind and lack the design elements you need for online success.  
2. Experience in Your Industry
---
It's one thing to have experience as a website designer. Searching for someone who has experience in your specific industry, however, can give you an advantage.
People learn by doing. A designer with first-hand experience working in your industry know what it takes to get the job done. They're already familiar with what you need, which could save you time and money in the long-run.
3. A Telling Portfolio
---
The proof is in the pudding—or in this case, on the webpage. 
Ask to see a portfolio of the web designer's previous work. While they might have talent, you still want to make sure their talent aligns with your goals.
Explore the websites they've worked on in the past. Pinpoint the elements you like and the design choices you don't. 
A designer's portfolio can tell you a lot about their experience, too. You can also ask to speak with some of the people they've worked with in the past. Referrals and testimonials can tell you a lot about their process a portfolio can't.
That way, you can determine whether or not working with that designer works for you.
4. A Range of Services
---
White label web design also prioritizes user experience. You should know:
60% of users will distrust a company with a website that isn't mobile-friendly
50% of web searches will be voice searches by 2020
94% of first impressions are based on the website design
70% of customers will abandon their cart due to bad user experience
40% of website visitors will leave a website if it looks messy
A quality web designer will know that user experience is key. Search for someone who will offer a range of services, including user experience-based design. 
There are also other services that can complement your web design needs, such as:
Website content writing
Search engine optimization
Social media marketing
Pay-per-click advertising
While a solo freelancer might not offer this entire package, an agency can. These services can help improve your website's user experience and increase your web presence.
That way, you're attracting new people to your website and prioritizing your visitors.
When your website looks great and works well, you can turn those visitors into paying customers. 
5. Ongoing Maintenance
---
Websites need plugin updates, break, and require fresh content all the time. Otherwise, you could end up falling behind the latest design and development trends. 
Make sure the web designer offers ongoing maintenance services. That way, you have someone you can call on when you need help. Their ongoing maintenance can give you some consistency, too. 
Otherwise, you might need to jump from designer to designer—people who don't understand the intricacies of your website.
Relying on the same designer can save you time (and stress, too)!
6. The Right Vibe
---
Sometimes, a partnership comes down to raw instinct. After talking to the website designer, do they have your confidence? Do they feel like the right fit for your website project?
If the answer is no, keep looking. Try to find someone you feel like you can trust. Otherwise, you're making a financial risk and time commitment with the wrong person. 
7. A Reasonable Contract
---
Always read the fine print. 
Get a copy of the proposed contract as soon as you can, then read in through. 
Check for where the contract mentions deliverables, payments, refunds, and what happens if problems arise. What happens if the website isn't made to your exact specifications?
If your company has a lawyer at hand, have them read it through. Having a professional review the contract can make sure you're protected. 
8. Agreeable Pricing
---
While you're searching for a web designer, keep your budget in mind. Try to determine your budget early on in your search. This can help you narrow down the choices, giving you a shorter list to work from. 
Break their pricing down by the service. Make sure you're getting everything you need out of the deal. 
The price to hire a designer can vary based on their experience, services, and even their location. Once you've seen their portfolio, you can determine if they're worth their asking price. Have them prove their worth that price through their experience, previous projects, and referrals. 
Knowing your budget ahead of time can help you avoid getting overcharged, too.
White Label Web Design: 8 Key Qualities of a Dedicated Designer
---
White label web design can help you attract new customers to your business so you can grow with a strong online presence. During your search, keep an eye out for these eight qualities of a dedicated designer. That way, you can find the perfect fit for your business!
Contact us today to start turning your website dreams into a reality.